Travel and Accommodations
We are pleased to announce that conference lodging is now available on campus: South Campus Plaza. It's very close to the conference venue—about 1200 feet—making for an easy walk if want to return to your room between sessions. We anticipate that most participants will opt for staying there to enhance opportunities for collegial engagement. Conference sessions start Friday morning. Rooms are also conveniently located near stores, restaurants, and the trolley station to take you to San Diego's downtown and to the waterfront. Because the San Diego tourist season begins in June, most hotels charge at least $200.00 per night plus taxes and fees. Regretfully, there are few hotel accommodations close to the SDSU campus, which mean taxis, Ubers, or public transportation to arrive at the conference.
South Campus Plaza rooms on campus cost $149.00 per night for a single-room occupancy. The rooms are large and have extralong twin beds, desk, chair, dresser, wardrobe, WIFI, minifridge, microwave, and bathroom.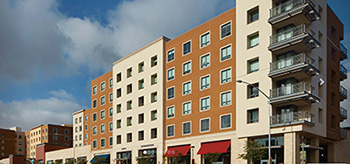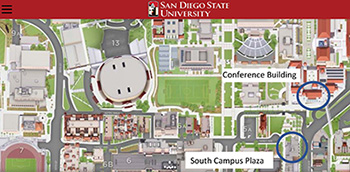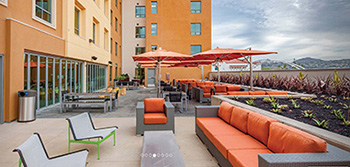 Lodging Reservations
Directions for SDSU
San Diego State University is located just off Interstate 8, at College Avenue. We are twenty minutes from the San Diego International Airport. For orientation, the Old Town Hotels are (approximately) just east of Interstate 5 and south of Interstate 5, very close to where the two interstates cross on the map.
Our address is:
5500 Campanile Drive
San Diego, CA 92182
Campus operator: (619) 594-5200

Driving Directions
From Los Angeles
» I-5 South
» Merge onto I-8 East
From Riverside
» I-15 South
» Merge onto I-8 East
From Yuma
» I-8 West
Mexico
» 805 North
» Merge onto I-8 East
From San Diego Airport
» Turn left onto N. Harbor Dr.
» Turn left onto W. Grape St.
» Merge onto I-5 South
» Merge onto CA-163 North
» Merge onto I-8 East
From I-8,
take College Avenue exit and go south. San Diego State University will be on your right.
Please see Google Maps for more detailed driving directions.

Trolley Directions
If you prefer to ride the trolley to SDSU, please see the MTS website for trolley routes and schedules. SDSU is on the green line of the trolley.