Travel and Accommodations (Note: price quotes may change)
The hotels listed here (and circled on the map) are all in Old Town San Diego. They are chosen because of their proximity to the Old Town trolley station, which is indicated by the red box on the map. All of the hotels are less than ½ mile from the station, where you get a direct trolley line to SDSU. We recommend staying in Old Town, but—of course—you might prefer to search for BBs or hotel deals elsewhere in the city (say, at the beach or Mission Bay), but bear in mind it will be harder to get to SDSU. If you feel like playing tourist (between sessions, of course), it is easy to get to the San Diego's Gas Lamp Quarter, Seaport Village, USS Midway, or the tall ship, Star of India in the harbor, via the trolley from at Old Town station. Sorry, but to get to the San Diego Zoo, you will have to take the trolley and then transfer to a bus.
To arrive at SDSU, you will take the Green line to Santee and get off at the SDSU stop. It leaves you off right by the Aztec Center, where our meetings are held. It is the huge white building looming on the right as you come up the stairs out of the station.
Because of the abundance and diversity of the places to stay, the only hotel that has a block for our conference is the first one, the Hilton, but it is the priciest. Note that hotel prices in San Diego are not outrageous, like cities where the ASA meetings are held, such as Chicago, Seattle, or San Francisco. We strongly recommend that you get your rooms reserved immediately. Rooms will fill up fast for this Cinco de Mayo weekend.
Hilton Garden Inn Old Town
A nice, new, classy hotel that is a 5 minute walk to trolley station (about 1200 feet). $189.00 619-260-0607. There will be an informal gathering in the Hilton bar on Thursday night, and everyone is welcome. To get this conference rate, please register using this link.
EZ 8 Motel Old Town
619-294-2512, This is a short trip to the trolley too, a six-minute walk (about 1300') and crosses a big intersection. It has the lowest prices, but it's not a Hilton Hotel. It's a motel, but in our judgement completely adequate. At $59.00 a night, you might want to check out the pictures in this link.
Best Western Plus Hacienda Hotel
619-298-4707, 4041 Harney St, San Diego, CA 92110, Another short walk—about 1200'—to the trolley (10 minutes). This one has a free shuttle from the airport, which saves taxi fares. A nice Mexican-hacienda-themed hotel that costs about $119.00
Courtyard Inn Marriot
619-260-8500, $139.00. This is another 10-minute walk (we estimate about 2200' on Google maps). This one has also has a free shuttle from the airport.
Fairfield Inn and Suits Marriot
3900 Old Town Ave, San Diego, CA 92110, 619-299-7400, This is near the Courtyard Inn, nice, but a bit less expensive: $127.00 (10-11 minutes to the trolley).

Western Inn Old Town
3889 Arista St, San Diego, CA 92110, 619-298-6888, Modest and inexpensive. Continental breakfast. $77.00. Check out the pictures in the link provided..
La Quinta Inn and Suites
2380 Moore St, San Diego, CA 92110. 619-291-9100. In the same general area as the two above, and prices are reasonable: $119.00
Recommended Conference Hotels in San Diego Old Town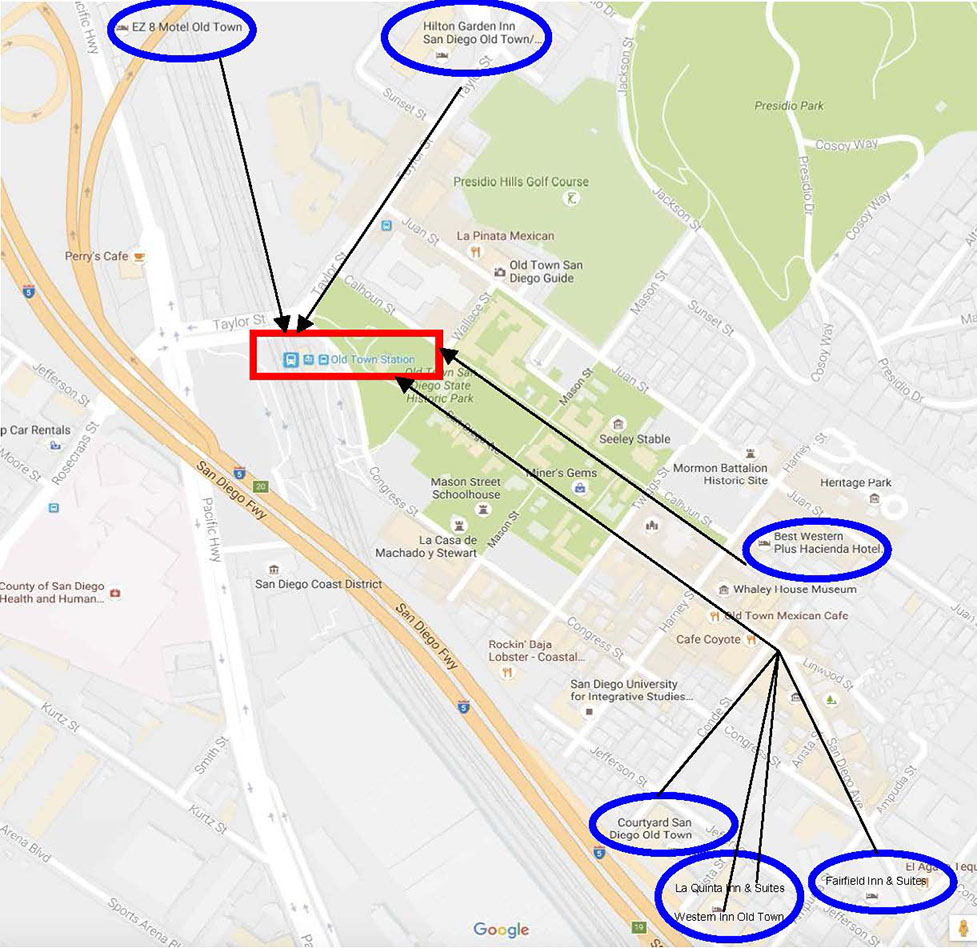 Directions for SDSU
San Diego State University is located just off Interstate 8, at College Avenue. We are twenty minutes from the San Diego International Airport. For orientation, the Old Town Hotels are (approximately) just east of Interstate 5 and south of Interstate 5, very close to where the two interstates cross on the map.
Our address is:
5500 Campanile Drive
San Diego, CA 92182
Campus operator: (619) 594-5200

Driving Directions
From Los Angeles
» I-5 South
» Merge onto I-8 East
From Riverside
» I-15 South
» Merge onto I-8 East
From Yuma
» I-8 West
Mexico
» 805 North
» Merge onto I-8 East
From San Diego Airport
» Turn left onto N. Harbor Dr.
» Turn left onto W. Grape St.
» Merge onto I-5 South
» Merge onto CA-163 North
» Merge onto I-8 East
From I-8,
take College Avenue exit and go south. San Diego State University will be on your right.
Please see Google Maps for more detailed driving directions.

Trolley Directions
If you prefer to ride the trolley to SDSU, please see the MTS website for trolley routes and schedules. SDSU is on the green line of the trolley.